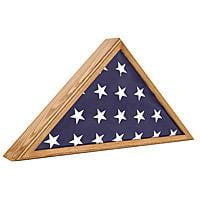 Veteran Oak Flag Case, Military flag display cases
Veteran Oak Flag Display Cases
Military flag display cases

As a patriotic American, you cherish the U.S. flag. Not only does it serve as a reminder of our country's freedom and justice, but it symbolically represents the many men and women who have fought, shed blood, and lost their lives to ensure that freedom and justice will continue to prevail. Display your respect by storing your flag in one of these handsomely constructed SpartaCraft Veteran Oak Flag Cases.
It feature a seven-step finishing process, a Plexiglas front, and a removable back panel for easy flag insertion.
It can be either mounted to the wall by using the included brass-plated Sawtooth hanger or left free-standing.
Veteran Oak Flag Display Cases

* Frame constructed of top-quality Appalachian hardwood
* Back panel made of plywood with birch on both sides and stays secure via turn knobs
* Joints are joined with staples and jet weld glue
* Holds the traditional burial 5' X 9' 1/2" flag
* DIMENSIONS: 25 3/8" x 12 9/16" x 3 3/16"
* Made in the USA
*COLOR: Oak
Barcode: 689533704700