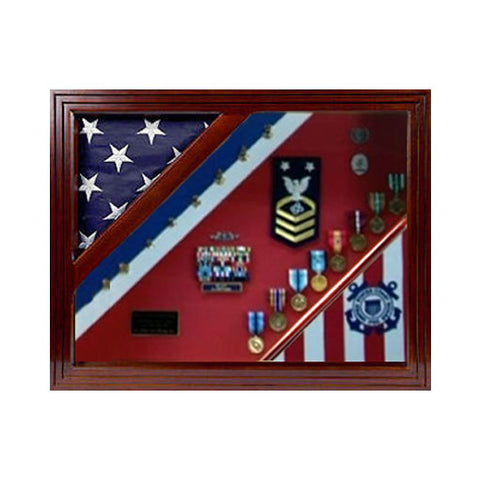 USCG Flag Cases, Coast Guard Flag Case fit 3' x 5' flag - Cherry Wood Material.
If you are looking for a great Coast Guard Retirement Gift. The American flag display case, flag  Shadow Box designed to resemble the blue, white and red stripe of a American flag. The Coast Guard Flag Case, can hold a large amount of memorabilia. This Coast Guard Flag Case is a great Retirement Gift, This case is available in Cherry and comes with a red, black, blue or green background.

Holds two 3'x5' flags. Mounting bracket is included.
If you chose the case to fit a 3x5 flag the inside demolitions are : 18" x 20" X 1 1/2".
If you chose the flag case to fit 5x9.5 flag the inside demolitions are : 25 3/4" x 24" x 2 3/4".
The  American flag case, flag shadow Box can fit for a small or large flag (burial flag).
It is USC. American Made for American Heroes. Fast shipping with secure buy.
Barcode: 659821456246