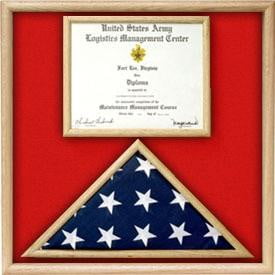 US Marine Corp Flag and Certificate Display Case/ award case
USMC Flag and document diisplay case
US marine Corps Flag Shadow box + Certificate Holder
Flag and certificate Combination Box - Flag / Certificate Display
These USMC Flag and Document display cases are solid oak or walnut cases are designed to beautifully display both a folded flag and other memorabilia in one place. We offer five different styles to suit most needs.
Three of these styles are available in :
for a 3' x 5' Flag
All have our normal choice of background fabric.
Complete care instructions are provided.
The USMC Flag and certificate Display case comes with actual service uniform fabrics, not imitations so you can rest assured that the fabric you receive in your case will be perfect for your branch of service
Service fabrics: Coast Guard, USMC, Army, Navy, marine Corps Blue, marine Corps Green
Velvets: Red, Black, Blue, Maroon
that USMC Flag and certificate Display Case is available in Red Oak or Walnut.
We do not stain our wood to create a "look",
we prefer to finish it with a clear coat to enhance the beautiful grain and preserve the natural color of the wood.
We can Fit the USMC Flag and certificate Display case for large Flag ( 5 x 9.5 flag - Burial Flag )
Orders are usually shipped out within one business day to places within the USA and Canada.
Barcode: 689533704793