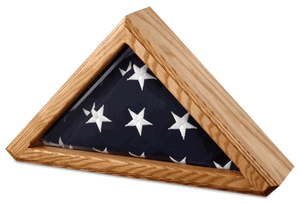 Senators Flag Display Case with glass front for 3ft x 5ft Flag
The Senators Flag Display cases are beautiful solid wood flag display cases featuring a stunning oak, cherry, or walnut finish.
 These American made flag display cases
This case holds a 3ft x 5ft flag.
 Features:
* Beveled glass front
 * Removable back panel for easy flag insertion
* Wall mount included
* This case is designed to hold a 3ft x 5ft flag
* Dimensions: 17 3/4"(W) x 9 3/8"(H) x 3 7/16"(D)
 * Made in the U.S.A.