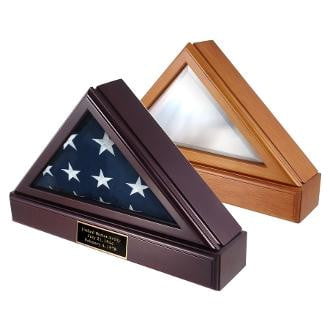 Retirement Flag cases for Military and Public Service personnel - Cherry
$198.73

$198.73

Save $116
---
---
Retirement Flag cases for Military and Public Service personnel
Our Retirement Flag Display case is 100% MADE IN THE USA and designed specifically for the American Flag.
Which when unfolded measures 3 ft. x5 ft.
These Retirement Flag cases is the perfect gift for retirement
 Retirement Flag cases SHADOW BOX + Pedestal + Plate for 3ft x 5ft Flag
in addition we offer the option to add to the tirement Flag casesd Engraved Black on Brass
Plate. for 3ft x 5ft Flag  FLAG Display Case Pedestal and Engraved Black on Brass Plate:
The tirement Flag cases will fit for 3ft x 5ft Flag.
The Flag Display Case and Pedestal is a very impressive solid wood flag case at a great price.
Personalization options are available during the ordering process, before the order is submitted.

This allows you to create a lasting memorial to the recipient. It is truly the perfect way to honor
dedicated service to the nation, eternal love for family, and devotion to faith and friends.

Your flag case will be a lasting heirloom that can be passed on for generations.
Features:
Beveled glass front

Front End Open

High quality crafted hinged lid for easy flag insertion

Magnetic closure lid

Wall mount included

This case is designed to hold a 3ft x 5ft flag

Oak finish or Cherry finish

Case dimensions: 25 1/8"(W) x 12 1/2"(H) x 4 3/8"(D)

Pedestal dimensions: 25 3/4"(W) x 3 3/4"(H) x 4 1/2"(D)
Barcode: