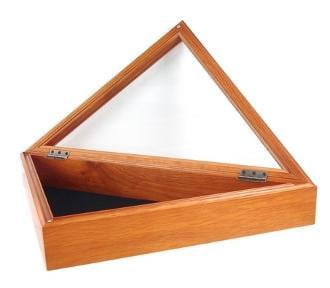 Officers Flag Display Case for 5ft x 9.5ft Flag - Oak Case Only.
Product Overview
Very impressive solid wood flag case
Hinged lid with a magnetic closure
Beveled edges on the front of the glass
Designed to hold a 5ft x 9.5ft flag
Made in China
This is a very impressive solid wood flag case at a great price. This case is made exclusively for Flags Connections. Designed to hold a 5' x 9.5' flag. Features a beveled glass front, and a hinged lid with magnetic closure. 
Barcode: 659821332793