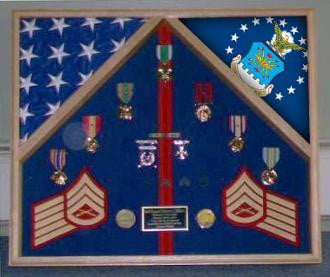 Navy Frame, Navy Flag Display Case, Navy Gifts hold a flag up to 5' x 9.6'
Navy Frame, Navy Flag Display Case, Navy Gifts 
Show How Much You Care With A Navy Flag Frame
Celebrate the service of a friend or family member with Navy Flag Frames from Flags Connections. These beautiful cases are perfect for the Army, Navy, Air Force, marines, or the Coast Guard. If you want to preserve the memory and bravery of those who serve so proudly, Flags Connections can help. Dedicated to preventing the brave heroes from forever being forgotten, order an elegant Navy Flag Frame from Flags Connections.
Each case is constructed of richly colored mahogany hardwood that will look beautiful with any décor. The hardwood frame is inserted with thick glass, not acrylic and will not scratch. Each display case can hold a flag up to 5' x 9.6'. The outside dimension of the Navy Flag Frame is 26" x 13" x 3.5" and is embellished with a die-cast, gold plated United States Armed Forces medallion that is centered on a bevel-cut double mat. Choose from an Army, Air Force, marine Corps, Navy Coast Guard, or a United States flag medallion. The back is easy to open, is lined with felt, and features a scratch resistant bottom.
Proudly made in the U.S.A. the Navy mahogany colored hardwood frame is available with or without a 5' x 9.6' Interment flag that is identical to the flags that are manufactured for the Veterans Administration.
Barcode: