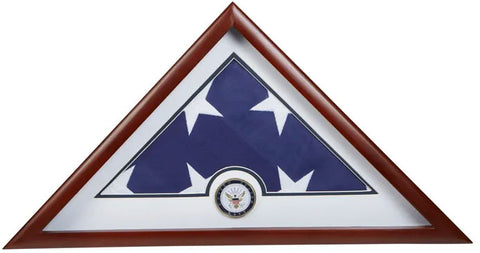 Navy Frame, Navy Flag Display Case, Navy Gift - 5' x 9.5' Flag.
Navy Frame, Navy Flag Display Case, Navy Gifts 
Each case is constructed of richly colored mahogany hardwood that will look beautiful with any décor. The hardwood frame is inserted with thick glass, not acrylic and will not scratch. Each display case can hold a flag up to 5' x 9.5'. The outside dimension of the Navy Flag Frame is 26" x 13" x 3.5" and is embellished with a die-cast, gold plated United States Armed Forces medallion that is centered on a bevel-cut double mat. Choose from an Navy United States flag medallion.
Proudly made in the U.S.A. the Navy mahogany colored hardwood frame is available with or without a 5' x 9.5' Interment flag that is identical to the flags that are manufactured for the Veterans Administration.
The Navy Flag Frame can be proudly displayed in your home or office and comes complete with mountable hardware. Flags Connections is proud to sell the high quality Navy Flag Frame handcrafted from the best solid hardwood. You might find a cheaper, poor quality Navy Flag Frame, but you will not find a Navy Flag Frame that is made like this. Flags Connections is the only place on the internet that sells the highest quality Navy Flag Frames in the world.
Flags Connections offers the fastest shipping available, with orders typically shipped on the same business day that the order is placed. The convenient online ordering is fast, safe and secure.
Constructed of rich mahogany colored hardwood and inserted with thick glass each display case holds up to a 5' x 9.5' cotton flag.

A die-cast, gold plated United States Armed Forces medallion is centered on a bevel-cut double-mat.

Easy open back panel and felt lined, scratch resistant bottom.

Available with or with out a 5' x 9.5' embroidered cotton Interment flag which is identical to those we manufacture for the Veterans Administration.

Outside dimensions: 26" x 13" x 3.5"
Barcode: 761596973498