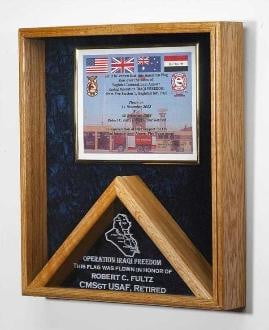 Military Awards and Flag Display Cases.
Military Awards & Flag Display Cases
Proudly Display Your US Air Force, US Army, US Coast Guard, Us marine Corps, US Navy, Firefighter, EMT medals and awards in our quality hardwood award and flag shadow boxes. Combination Certificate & Flag Case 18" x 20".
Flag and Certificate Case & Shadow Box-Flag & Certificate Display Case
18" x 20" Certificate Combination Case (Solid Oak shown, select wood below) 
Holds 3 x 5ft Folded Flag (optional)
Optional- Laser Engraved Map or Service Emblem On the glass
Optional- up to 7 Lines of Personalized text
Crushed Velvet Background
US Air Force, US Army, US Coast Guard, US marine Corps, US Navy Deluxe Combo Awards / Flag Shadow Box 18"W x 20"H x 3"D With Raised Mounting Surfaces
Barcode: