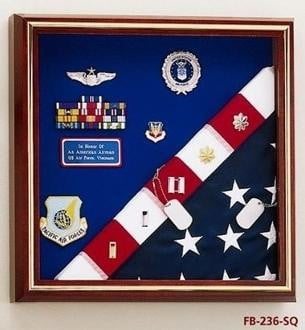 Military Award Medal Flag Display Combination.
The FB-236-SQ is constructed from choice Appalachian Hardwood with an elegant Queen Anne Cherry finish, gold accent trim, sturdy masonite backing, and 1/8" glass front.  A silk-screened, paper, flag front is included for display.  The depth between the glass and masonite is 2 3/8".
FB-236-SQ
Overall size:  17 1/2" W x 17 1/2" H x 3" D
Inside (face) area:  15 1/2" W x 15 1/2" H x 2 3/8" D
In addition to honoring our Veterans, this piece is also ideal for display of baby items, wedding momentos, graduation keepsakes . . . the possiblities are endless!
Color choice of velour:  Black, Burgundy, Gray, Green, Red, Navy Blue, or Royal Blue.
Velcro-compatible material available for an additional charge:  Black, Burgundy, Camel, Gray, Green, Oyster, Red, or Royal Blue.
Wall-mountable only.  Keyholed, ready to hang.
Barcode: 659821412792