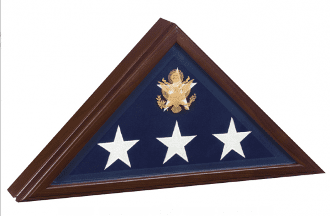 Memorial Flag Display Case - Presidential Flag Case – Cherry
$199.99

$199.99

Save $146
---
---
Memorial Flag Display Case - Presidential Flag Case – Cherry
The presentation of a burial flag to a family member of the Untied States military is one of the greatest honors a soldier's family can attain. When a member of the armed forces passes away, whether in combat or from natural causes, the flag is passed on to the family of that departed soldier as a way to say thank you for the service that has been given.
What is done with the flag after the funeral ceremony is often not thought about very often; there are too many feelings of grief and loss to think about at that moment and for some time afterward. But when the grief eventually leads to remembrance, displaying the flag in the most elegant and dignified manner makes sense. Thankfully, the Sparta Craft Company can make a display case for your Presidential Flag that will give it exactly the kind of dignified display option you desire.
It also comes equipped with a hidden magnetic closure and integrated dust seal to best preserve your cherished flag. It comes specifically sized to hold a 5'X9' American Flag.
Barcode: 659821359288