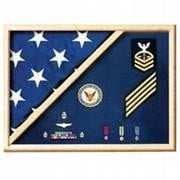 Medal Glass Display Case Shadow Box,FLAG AND MEDAL DISPLAY.
Medal Glass Display Case Shadow Box - Great military gift.
Our NEW Medal Glass Display Case Shadow Box for the U.S. Flag is hand-crafted out of solid walnut that has a high-gloss finish with a lightweight acrylic front panel. This premium, well-crafted case with shadow box is designed with timeless elegance and solidly built to maintain its classic appeal and withstand years on display.
This beautiful case is perfect for displaying your special 3-ft x 5-ft flag and any other memorabilia, such as medals, rank insignia, patches, pins and more.
Included with this display case is a wall hanging kit and complete care instructions. You may also add an engraving plate that you may mount wherever you like on the case. For the engraving plate, you can either choose black on brass or plain brass, and they are available for engraving up to three lines of 25 characters each.
The background fabric on this can either be service uniform fabric or velvet. The service uniform fabric is actual military uniform fabric and it is available in Navy Blue, Army Green, Air Force Blue, Marine Corps Blue, Marine Corps Green and Coast Guard Blue. The velvet background is available in Black, Navy Blue, Red and Maroon.
Features:
Lightweight acrylic front
Choice of background fabric
Wall mount included
Outside case dimensions: 22" (W) x 16"(H) x 2 5/8"(D)
This case is designed to hold a 3ft x 5ft flag
Made in the U.S.A.