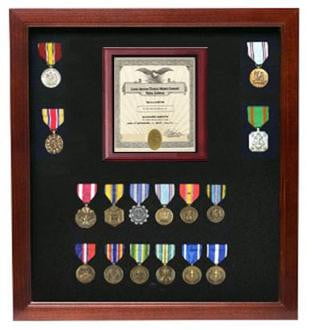 Medal and Document Case American Veterans Made - Cherry
US Air Force, US Army, US Coast Guard, US Marine Corps, US Navy

Deluxe Combo Awards / Flag Shadow Box 

Military Awards / Certificate Shadow Box
You can chose if you like the certificate vertical or horozontal
Combination Awards and Flag Shadow Box

This is our finest quality case, brought to you at a discounted price. Why display your family heirlooms in a lesser quality case, when you can enjoy this furniture-grade flag and document case for less money than would be spent on the cheap imitations. This case is the same as our Premium USA-Made Solid wood Flag And Document Case, but the wood has been finished with a rich cherry stain.
Display your flag with this elegant flag and document case made from solid oak and 100% made in USA.
Along with your case you will also be able to securely display a 8.5 inch x 11 inch document in the document holder. It has a musium qulaty plexiglass viewing pane and the back board is covered in rich, luxurious Back felt.
There is plenty of room, in this case, to hang medals and other memorabilia.
Dimensions: 25 inches x 23 inches
IMPORTANT - Measure your flag to insure you are ordering the correct size case.
Why Solid Wood Flag Frames are Perfect for Showcasing Veteran's American Flags
This particular display case is one of the best memorial flag frames on the market. Crafted from solid wood and not cheap MDF materials, the plexiglass of the veteran flag cases offers a bevel around the inner surface that combined with the decorative molding into a triangle shape gives it an upscale look. You can choose from three styles and the oak units in particular offer an exceptional finish along the cherries and the black. You can purchase the display with or without the matching pedestals and a stand can be purchased separately. This particular model has a rear and a front opening area which is hinged with a magnetic clasp that is cherry colored.
What Size Flags Can Be Held?
There are two sizes of national ensign frame boxes that can hold the flags;
- 3' x 5'
- 5' x 9 1/2'
The shadow box can fit both size banners with ease and the high quality appearance of the triangle wood creates a very unique look that cannot be missed. You can mount the boxes on the wall or have them rest on the tabletop.
When displayed with a base, the American flag will appear more pronounced and the memorial stands are stained with the same shades as the frame for a uniform appearance. You will not need to unfold the memorial banners when they are displayed in the boxes as the display is already appropriate for this function.
Why Our Company Works for Your Needs
Incredible Selection: We offer hundreds of different frames, so a display for virtually any event can be found right here.
Same Day Shipping: For most in-stock items we offer same day shipping if the order is placed before 1pm EST Monday – Friday.
Great Customer Service: You can speak to a live representative who will answer all of your questions.
Why We are the Flag Frame Company of Choice
Variety: We offer 22 different versions of flag frame cases so you can choose the right one for your needs.
Ornate Edging: Instead of the basic edges provided by many other companies, we add extra detail in the edging of our flag frames.
Craftsmanship: The solid wood construction, overall craftsmanship put into the flag frames are second to none in our industry.
These cases will fit a 3' x 5' or for a burial Flag ( 5x9.5 ), Or 4x6 flag perfectly. ( just make sure to chose the corect size above )
Please note that a flag is not included.
Barcode: 689533704328