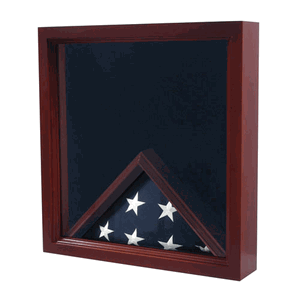 Medal and award Flag Display Case - Cherry Shadow Box
Medal and award Flag Display Case - Shadow Box
The Medal and Award Flag Display Case - Shadow Box is our military flag and medal display case, made of finely crafted wood with an elegant cherry finish. This case is ideal for displaying medals, memorabilia, certificates and a flag. Made exclusively in the U.S.A., this Medal and award Flag Display Case - Shadow Box holds a 3ft x 5ft folded flag (flag is sold separately, see our Cotton American Flags). The medal display area is lined with rich, black felt to highlight special awards – the size of this area is 19 in. wide x 20 in. tall. The document holder dimensions are 8 1/2 in. (top of display case to the top of the shadow box) x 15 1/2 in. (from side to side of the box).
Our items are crafted in genuine hardwoods, material as durable as it is attractive. A flag display case from flagsconnections.com is a great investment. Our military flag or memorial flag display case units are crafted from only the finest, hand-selected hardwoods. Buying a flag display case from flagsconnection.com means you are buying a top-quality piece, crafted so well and made from such fine materials, it is sure to be appreciated from generation to generation as a family heirloom.
Our flag display cases are perfect for displaying flags from all branches of the military and other public services, such as police and firemen. Flag display cases have a certain charm unmatched by other memorabilia displays because of the presentation of the precious keepsakes found inside the case. Of course, framing these treasures in elegant and distinguished fashion is key. Our products can bring elegance to the most ordinary of home hallways, office walls, corridors or club or association headquarters. The right flag display showcase not only shows off the beauty of what's inside, but keeps it preserved and secure as well.
Barcode: 709260323217