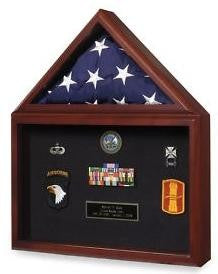 Marine Corps Flag shadowbox for awards medals photos - oak
$175.00

$175.00

Save $204
---
---
Marine Corps Flag shadowbox for awards medals photos
Classic elegance and craftsmanship describe our Marine Corps Flag Shadow Box for awards, medals and photos. Create a perfect display for your 3-ft x 5-ft flag and accompanying certificate or medals. Ideal for storage of flags flown over the Capitol, along with certificate. The precut mat is included to fit a standard 8 ½-in. x 11-in. certificate. Simply remove the mat to configure as a shadowbox for awards, medals, photos, etc. Comes with both blue and black background and material and instructions for easy mounting of your items. Glass front with turn button closures on back of both the display and flag case compartments. This box is designed to be hung on the wall, but can be placed on a shelf.
The overall size of this Marine Corps Flag Shadowbox measures 21 in. tall x 17 in. wide x 3.5 in. deep. The containment section is 10.25 in. wide x 15.5 in. tall x 2.38 in. deep. And the flag section is 13.75 in. x 6.75 in. x 2.38 in. Available in Cherry or Oak.
This Marine Corps Flag Shadow Box for awards, medals and photos is made from solid wood, providing an excellent display for rank insignia and medals with a flag case. Truly worthy of holding the flag of the U.S. Marine Corps, this display case honors those sailors who have revered the flag's colors for decades. The Marine Corps emblem contains a spread eagle, a globe showing the Western Hemisphere, and a fouled anchor, depicting battle in air, on land and sea. This design is rooted in early Marine history.
Our solid-built display cases can be set off against other pieces of furniture in any room, or they can harmonize well with the décor of any room, office or hall. See how our hardwood display cases create an ambiance of security, solidity and warmth, and why they are more popular than metal or acrylic cases.
Barcode: 659821308293