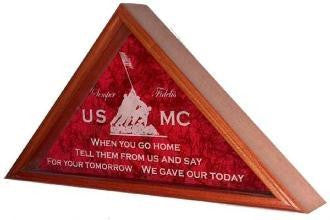 Marine Corps Flag Case - Large Flag for 5Ft X 9 Ft Flag.
Marine Corps Flag Case - Large flag for 5ft x 9 ft flag
If you or someone you love has spent time serving your country, then this is the flag case you should have, bar none.  Our Engraved Service Emblem Flag Cases are exquisitely crafted in your choice of solid oak, walnut, cherry, or mahogany.  The double-strength glass front of the flag case is Laser Engraved with your choice of Service Emblem; Air Force, Army, Coast Guard, Marine Corps, or Navy.  The back panel of your flag display case is layered with crushed velvet, making this the preeminent flag display case available anywhere today.
Barcode: 659821410798