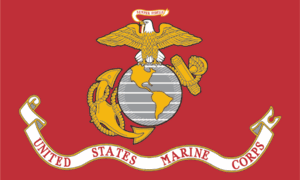 Marine Corps Flag 4ft X6ft Nylon By Valley Forge.
Marine Corps Flag 4ft x6ft Nylon by Valley Forge
The Marine Corps flag is scarlet with the Marine Corps emblem, which contains a fouled anchor, a globe displaying the western hemisphere, and a spread American Bald Eagle atop the globe. A ribbon held in the eagle's beak carries the Marine motto, "Semper Fidelis," (Latin for "always faithful"). Below the emblem a larger ribbon holds the title, "United States Marine Corps." Top quality 4x6 ft. Marine Corps flag, made in the US of durable, heavyweight nylon by a leading flag company. This flag looks great indoors and outdoors. It is finished with a strong canvas heading and 2 brass grommets.
Barcode: 659821113316