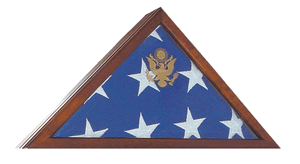 Marine Corp Flag Case - Mahogany
Marine Corp Flag Case
Presidential Flag Display Case with Seal
The Presidential Flag Display Case with Seal is a best selling solid wood flag case that is made in the USA.
This beautifully crafted case is available in solid Cherry and features an embossed Presidential Seal on the front glass cover.
This very impressive case is designed to hold the 5' x 9.5' Burial Flag.
Features:
Solid cherry wood
Beveled glass front
High quality crafted hinged lid for
Easy flag insertion Magnetic closure lid
This case is designed to hold a 5ft x 9.5ft flag
Dimensions: 26"(W) x 13"(H) x 4 3/8"(D)
Made in USA
Please see below what a few of our clients used as a text for the engraved name plates!
All plates are laser engraved
And come with a gold lettering and a black background.
It is all done according to the military standard, with military fonts.
The name plates will come with a double side tape, for your convenience – so you can easily attached it to any flag case.
All name plates are shipped within the same day.
Barcode: 709260322937