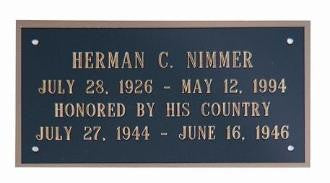 Large Name Plate - 3"tall x 6"wide
Large Personalized Name Plate Engraving Plate - Engraving
Large Name Plate :3" tall x 6 " wide?
Will Fit Up to 6-7 lines of text
Many of our flag display cases and medal display cases are available with an optional Personalized Name Plate. Engraved nameplates feature an adhesive backing that allows for easy attachment to pedestals or glass fronts of flag cases and medal and award cases.
Nothing immortalizes a special flag or collection of medals or awards like stamping one's name or group name on a flag display case or medal display case. Picture your personalized name, rank, branch of military service or public service position – or even a personalized message – with dates as an engraved black-on-brass nameplate on your important display case. Each nameplate measures 6 in. (W) x 3in. (H), and comes with a maximum of four lines, approximately 34 characters per line.
As with our flag and medal display cases, this Personalized Name Plate from flagsconnections.com is a great investment. Not only are our military flag and memorial flag display case units crafted from only the finest, hand-selected hardwoods, our nameplates are constructed from only the finest brass and engraved with exceptional clarity and accuracy. Buying from flagsconnection.com means you are buying top-quality products, crafted so well and made from such fine materials, it is sure to be appreciated from generation to generation as a family heirloom.
Nameplates feature an adhesive backing which allows easy attachment to pedestals or glass fronts of flag cases and Challenge Coin Display case
Black-on-Brass
Item No. NP101-1
Width = 6"
Height = 3"
Maximum 6 lines
Approx. 60 characters per line
Please see below what a few of our clients used as a text for the engraved name plates!
All plates are laser engraved
And come with a gold lettering and a black background.
It is all done according to the military standard, with military fonts.
The name plates will come with a double side tape, for your convenience – so you can easily attached it to any flag case.
All name plates are shipped within the same day.
Barcode: 689533704533