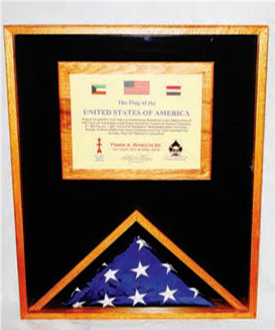 Large Military Memorial Flag, Medal Display Case Holds a 9' x 5.5' Memorial Flag
Large Military Memorial Flag/Medal Display Case 
Military Display Case
This unique military display case is handcrafted by United States Veterans.  It is longer than most cases so it can fit either a 3 X 5 commerative flag or a 9 X 5 1/2 Memorial Flag. 
There is an option to place a certificate with the flag, honoring your loved one.
This is a quality, made in the USA, display case that can come in either Oak or Cherry.
Whether your loved one served in the Army, Air Force, Marines, Navy or Coast Guard, you will be sure to show how proud you are of your brave soldier who deserves a quality, handcrafted case to commorate his/her service. 
3/4" Solid Oak
Holds a 9' x 5.5' Memorial Flag
Sliding Glass, Cloth Back
Pin Able / Hook & Pile Compatible
Custom cloth colors available 
Engraved Plate Sold Separately 
Case can fit the 3x5 flag  the size of that case is :(H) 26"x(W)20"x(D) 1 9/16" 
Or the case can be set to fit the Burial flag ( the 5 x 9.5 flag)
that case will be : (H) 30"x(W)26"x(D) 2 13/16"
Barcode: 659821135035