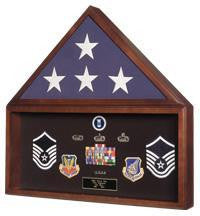 Large Flag Medal Display Case for 5ft x 9 ft Flag.
Large Flag and medal display case  for 5ft x 9 ft flag
 Flag and Medal Display case for 5ft x 9 ft flag
Great for burial flags
Create a perfect display for your 5 inch x 9 1/2 inch flag and accompanying awards or medals.
Glass front flag case with acrylic front display case and turn button closures on back of both compartments.
Velcro-friendly backing for easy mounting of memorabilia. Solid Walnut with Heirloom finish.
Barcode: 659821066315