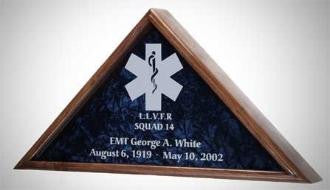 Large Flag Display Case With Engraved Emblem
Large Flag Display Case With Engraved Emblem
Flag Case designed specifically for the Burial, or Casket Flag which, when unfolded measures 5 ft. x 9-1/2 ft. These Large Flag Cases will also beautifully display your 5 ft. x 8 ft. and 4 ft. x 6 ft. flags.
Features:
Solid Oak, Walnut, Cherry, or Mahogany
Double Strength Glass Panel
Personalized Laser Engraving (optional)
Crushed Velvet Background (blue)
Flag (optional)
Laminate Panel Back
Laser Engraved Emblem Included
Inside Dimensions: 23 3/4"W x 11 3/4"H
Accepts folded flags up to the 5x9-1/2ft coffin/burial flag.
Barcode: