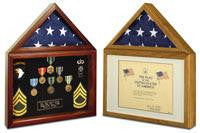 Large Flag Case - Fire Dep Flag Case.
Create a perfect display for your 3 x 5 flag and accompanying certificate or medals. Ideal for storage of flags flown over the Capitol along with certificate. Glass front with turn button closures on back of both the display and flag case compartments. Available in Oak and Cherry.
Size:
13.75" X 6.75" X 2.38" (flag case)
15.5" X 10.25" X 2.38" (display case)
Made in USA !!!
Barcode: 659821011025