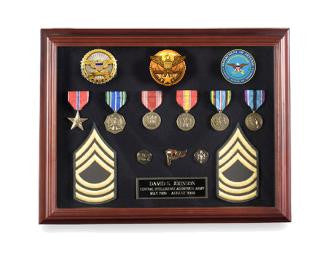 Large American Medal frames, Medal Shadow Cases
Large American Medal frames, Medal Shadow Cases 
Medal Display case, Large Medal Frame
Our large Large American Medal frames, Medal Shadow Cases is hand made with top of the line cherry wood.
The Military Shadowbox display case includes reversible black/blue Velcro-friendly insert for easy display of personal items.
Proudly display your Military Awards in a great american made military medal and ribon display case.
The size of the Military Awards display case is:

Inside 16" x 20"
Outside 17.5" x 21.5"
Barcode: 659821304356