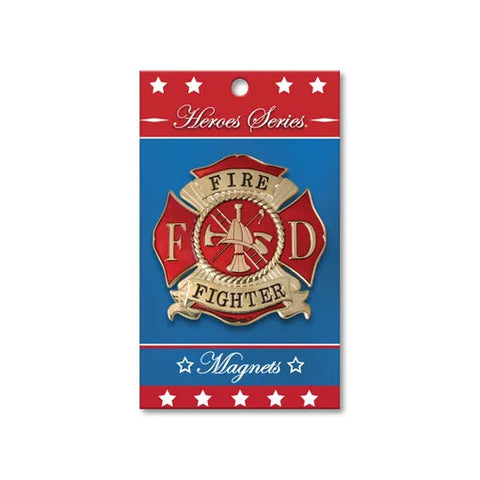 Heroes Series Firefighter Medallion Large Magnet - Size 3.75 Inches.
Each gold-plated magnet from our Heroes Series is a show of love and support for those in the United States armed forces or our nation's first responders. Smooth back makes your medallion perfect for mounting, engraving or using as a paperweight. They can also be used to decorate an urn or any item with a smooth flat surface. We feature these medallions on many of our veteran and military urns and Perfect for an Office Gift.
Best Feature of This Medallion:
These Heroes Series Firefighter Medallion Large Magnets are the perfect way to show love and support for the United States Firefighter.
Durable die-cast metal with polished gold plating and vibrant colors make these medallions unmatched in caliber.
Each medallion magnet measures 3.75" in diameter, and its significance won't be missed on your refrigerator, locker or other magnetic surfaces. The backside is unstamped and features dual magnets for optimized holding strength.
The perfect gift item for a loved one serving or a future member of the United States Firefighter. Look no further for the perfect patriotic gift.
Manufactured in the USA.
Barcode: 695510310062