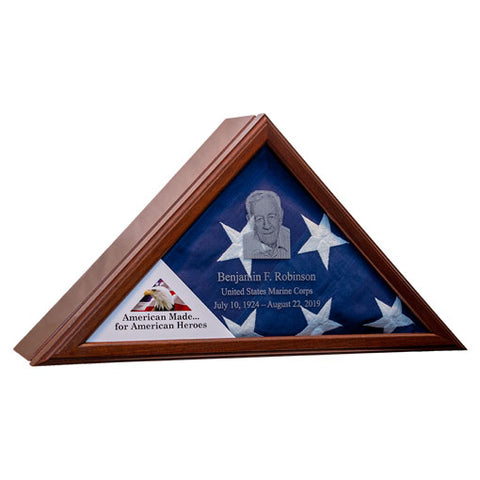 Flags Connections - Eternity Flag Case/Urn Combo.
The Eternity Flag Case and Urn is a beautifully hand-crafted piece that will surely be a treasured heirloom to honor your Veteran for years to come.  Constructed using 100% American sourced hardwoods and finished to enhance the natural beauty of the wood.  
It features a hinged lid to classically hold and preserve a folded flag in the front.  There is a urn compartment in the back that is accessible through the removable back panel.
Solid Hardwood Construction
Hand Made in North Carolina
Available in a High-Gloss Cherry or Mahogany Finish
Beveled Glass Front
Hinged Front Lid with Hidden Magnetic Closure and Integrated Dust Seal 
Designed to Hold a 5' x 9.5' Burial Internment Flag (not included)
Laser Engraving Available
American Made for American Heroes
Barcode: 659821077731