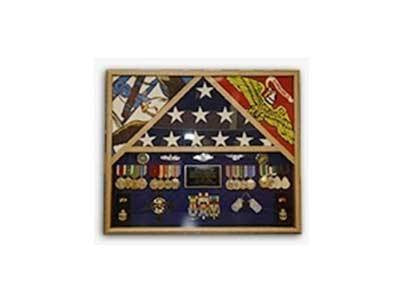 Flags Connections 3 Flags Military Shadow Box, flag case for 3 flags
This case displays 3 flags, a USA flag with either military or state flags, and also provides a good amount of space for your memorabilia.
This case is available in either Red Oak, Walnut or Cherry and comes with a red, black, blue or green background
Holds three flags up to 3'x5' each  or you can upgrade the case to hold 3 burial flags .
Mounting background is included
Outside dimensions are 22"x 26" x 3"
Flag and Medal and or flag and document flag display holder
The Flag case can hold up to 3 flags 
Our 3 flag display case Is hand made by Veterans
Our flag cases are all made from Top of the line American Real Wood
Barcode: 659821009152