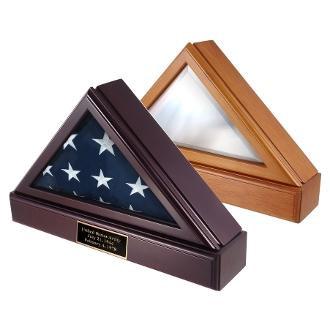 FLAG SHADOW BOX, Pedestal For 5ft x 9ft Flag
FLAG SHADOW BOX + Pedestal + Plate for 5ft x 9ft Flag
New Veteran Flag Display Case Pedestal for 5ft x 9ft Flag BURIAL FLAG Display Case Pedestal
The Flag Display Case and Pedestal is a very impressive solid wood flag case at a great price.
This beautiful case is one of the best selling cases and is available in Cherry finish.
This flag case is designed to hold a 5ft x 9ft flag and comes with the matching pedestal.
Finish : Cherry or oak
Engraving Plate : Black on Brass ( see photo above ) 3 lines of Engraved Brass Plate Line
Font : Arial Beveled glass front High quality crafted hinged lid for easy flag insertion Magnetic closure lid Wall mount included
This case is designed to hold a 5ft x 9ft flag Oak finish or Cherry finish
Case dimensions: 25 1/8"(W) x 12 1/2"(H) x 4 3/8"(D)
Pedestal dimensions: 25 3/4"(W) x 3 3/4"(H) x 4 1/2"(D)
Barcode: 659821499991