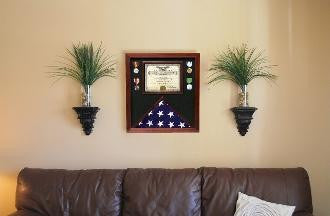 Flag Document Display Case, Wood, Made By Veterans Solid wood Flag And Document Case
Flag / Document Display Case - Real Wood,.
Veterans Made Solid wood Flag And Document Case - Real Wood
This is our finest quality case, brought to you at a discounted price. Why display your family heirlooms in a lesser quality case, when you can enjoy this furniture-grade flag and document case for less money than would be spent on the cheap imitations. This case is the same as our Premium USA-Made Solid wood Flag And Document Case, but the wood has been finished with a rich cherry stain.
Display your 3 foot x 5 foot flag with this elegant flag and document case made from solid oak and 100% made in USA.
Along with your case you will also be able to securely display a 8.5 inch x 11 inch document in the document holder. It has a 1/8" tempered glass viewing pane (the same glass as in your car door) and the back board is covered in rich, luxurious black felt.
There is plenty of room, in this case, to hang medals and other memorabilia.
Dimensions: 20 inches x 26 inches ( if you order the 3x5 flag
Or 26"x 30" if you order the case to fit for the 5 x 9.5 flag ( this is the size of the flag that case from a casket )
*** The Flag / Document Display Case Have A museum Quality Plexiglas that cover all the items that are in the case ****
IMPORTANT - Measure your flag to insure you are ordering the correct size case.
These cases will fit a 3' x 5' or for a burial Flag ( 5x9.5 ), Or 4x6 flag perfectly. ( just make sure to chose the corect size above )
but will not fit any other size. If you are not sure what size case to order,

Please note that a flag is not included.
Orders are usually shipped out within one business day to places within the USA and Canada.
Please see below what a few of our clients used as a text for the engraved name plates!
All plates are laser engraved
And come with a gold lettering and a black background.
It is all done according to the military standard, with military fonts.
The name plates will come with a double side tape, for your convenience – so you can easily attached it to any flag case.
All name plates are shipped within the same day.
Barcode: 709260322876