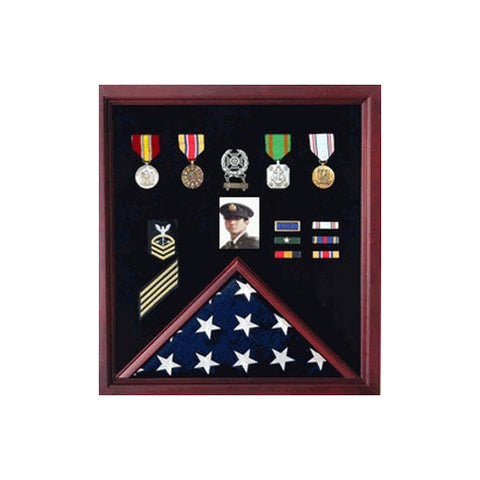 Flag Display Case Combination For Medals Photos - 4' x 6' Flag Cherry Wood.
Case will fit only for the 4x6 flag
These beautiful Flag Photo and Badge Display Case, cherry flag and medal cases are the perfect military gift idea. It can serve as a veteran flag display case, and can hold a flag and certificate for a 4x6 flag. Our flag display cases are proudly made in America. Only the highest quality materials are used to make this wonderful piece for your living room, home office or fireplace mantel!

This beautiful Cherry Medal and Flag Display Case features a glass front with black lining on the inside and is finished with a beautiful cherry finish for an elegant touch.

It will hold a folded 4' x 6' flag in the flag case and the backboard is perfect for hanging medals and other memorabilia.

Dimensions: 20" W x 23" L.
We offer the engraving plates for additional cost.
The flag case do not include any flag – the item for sale is only the flag case !
Barcode: 657477187521