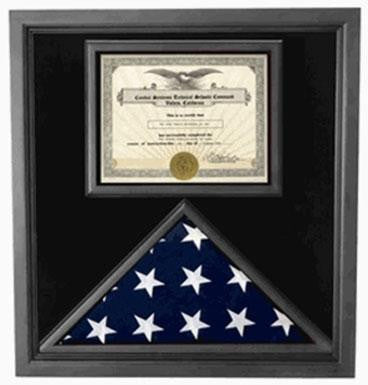 Flag Connections Premium USA-Made Solid wood 4x6 flag and certificate display case Black Finish
Our Flag and Certificate Case is specially designed to proudly display  a folded 4 X 6  American flag (burial flag). It also has room to prominently display an 8.5 X 11 certificate.
Our flag and certificate case is made with real wood, with a clear plexiglass front , boarded back, which enables any displayed medals to stand out.
The Flag and Certificate Case - Black Frame have a Museum quality Plexiglas that cover all the front part ( in addition to the museum quality Plexiglas that cover the certificate)  in order to protect your flag and certificated and or medallions

The Size of the case will be  26" x 30" x 3 "
Barcode: