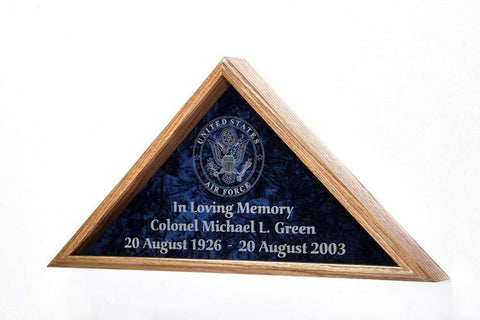 Flag Display Case w/Military Emblem - Includes 3 Lines of Text Personalization! - BLUE CRUSHED VELVET for 5'x9.5'
Introducing our Solid Wood Flag Display Case, designed specifically to showcase your 5x9.5 burial or casket flag. Constructed with the utmost care and attention to detail, this display case is made entirely from high-quality, durable wood, ensuring that it will last for generations to come.
The double-strength glass front of the case features a striking navy emblem, adding a touch of elegance and sophistication to the overall design. What's more, we offer the option to laser engrave up to three lines of personalized text onto the glass front, making this display case a truly one-of-a-kind tribute to your loved one.
The interior of the case is lined with luxurious blue crushed velvet, providing a soft and elegant backdrop against which your flag can be displayed. And with the ability to hold the large Americana flag that was given during a funeral or military service, this display case is the perfect way to honor and commemorate the service and sacrifice of your loved one.
But that's not all - this display case is 100% made in the USA, so you can be confident in the quality and craftsmanship of your purchase. And with fast shipping, you can receive your display case in no time, ready to proudly display your cherished flag and personalized information.
SOLID OAK FLAG DISPLAY CASE FOR 5X9.5 BURIAL / CASKET FLAG. DOUBLE STRENGTH GLASS FRONT HAS NAVY EMBLEM and UP TO 3 LINES OF PERSONALIZED TEXT LASER ENGRAVED. BLUE CRUSHED VELVET. 100% MADE IN THE USA!
Barcode: 659821486229