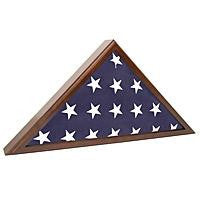 Flag Case for Veteran Funeral, Cherry Flag Case
5' X 9.5' Flag Display Case for Veteran Funeral, Burial Flag -CHERRY
As a patriotic American, you cherish the U.S. Flag.
Not only does it serve as a reminder of our country's freedom and justice, but it symbolically represents the many men and women who have fought, shed blood, and lost their lives to ensure that freedom and justice will continue to prevail. Display your respect by storing your flag in this handsomely constructed SpartaCraft Cherry Flag Case. It feature a seven-step finishing process, a Plexiglas front, and a removable back panel for easy flag insertion. It can be either mounted to the wall by using the included brass-plated Sawtooth hanger or left free-standing.
* Frame constructed of top-quality Appalachian hardwood
* Back panel made of high-density fiberboard that stays secure via turn knobs
* Joints are joined with staples and jet weld glue
* Holds the traditional burial 5' X 9' 1/2" flag
* DIMENSIONS: 25 3/8" x 12 9/16" x 3 3/16"
COLOR: Cherry
Orders are usually shipped out within one business day to places within the USA and Canada.
Here is what our loyal customers have to say about the Flag Case for Veteran Funeral

Please see below what a few of our clients used as a text for the engraved name plates!
All plates are laser engraved
And come with a gold lettering and a black background.
It is all done according to the military standard, with military fonts.
The name plates will come with a double side tape, for your convenience – so you can easily attached it to any flag case.
All name plates are shipped within the same day.
Barcode: 709260322951