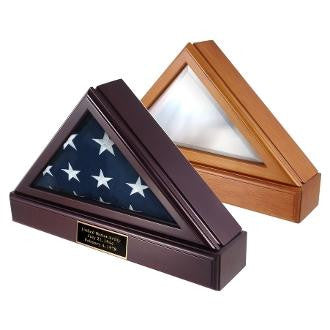 Flag Box, Flag Pedestal Box, Flag Boxes With Personalized Engraved Plate
Personalized Engraved Plate
FLAG BOX,Flag and Pedestal box,Glag boxes
New Veteran Flag Display Case Pedestal and Engraved Black on Brass Plate: for 5ft x 9ft Flag BURIAL FLAG Display Case Pedestal and Engraved Black on Brass Plate: for 5ft x 9ft Flag
The Flag box and Pedestal is a very impressive solid wood flag case at a great price.
This beautiful flag box is one of the best selling flag boxes and is available in Cherry finish.
This flag case is designed to hold a 5ft x 9ft flag and comes with the matching pedestal.
Finish : Cherry
Engraving Plate : Black on Brass ( see photo above ) 3 lines of Engraved Brass Plate Line Font : Arial
Beveled glass front High quality crafted hinged lid for easy flag insertion Magnetic closure lid Wall mount included
This case is designed to hold a 5ft x 9.5ft flag Oak finish or Cherry finish
Case dimensions: 25 1/8"(W) x 12 1/2"(H) x 4 3/8"(D)
Pedestal dimensions: 25 3/4"(W) x 3 3/4"(H) x 4 1/2"(D)
Features:
Beveled glass front

High quality crafted hinged lid for easy flag insertion

Magnetic closure lid

Open from the front


Wall mount included

This case is designed to hold a 5ft x 9.5ft flag

Oak finish or Cherry finish

Case dimensions: 25 1/8"(W) x 12 1/2"(H) x 4 3/8"(D)

Pedestal dimensions: 25 3/4"(W) x 3 3/4"(H) x 4 1/2"(D)
Barcode: 659821235926