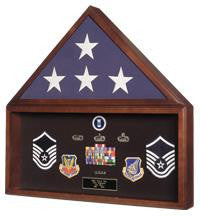 Flag and Document Display Case, mounting flag case
Flag and Document Display Case
Large Flag and medal display case for 5ft x 9 ft flag
Flag and Medal Display case for 5ft x 9 ft fflag
Great for burial flags

The Flag and Document Display Case Create a perfect display for your 5 inch x 9 1/2 inch flag and accompanying awards or medals.
Glass front flag case with acrylic front display case and turn button closures on back of both compartments.
Velcro-friendly backing for easy mounting of memorabilia. Solid Walnut with Heirloom finish.
The rectangular part of the case inside dimensions are : 10in x 24 in
Orders are usually shipped out within one business day to places within the USA and Canada.
Please see below what a few of our clients used as a text for the engraved name plates!
All plates are laser engraved
And come with a gold lettering and a black background.
It is all done according to the military standard, with military fonts.
The name plates will come with a double side tape, for your convenience – so you can easily attached it to any flag case.
All name plates are shipped within the same day.
Barcode: 709260322760