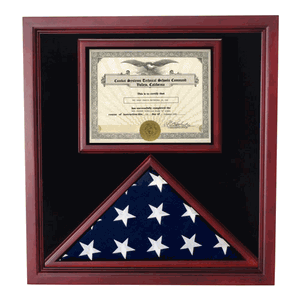 Flag and Certificate Case, Cherry Flag Display Cases With Certificate
Flag and Certificate Case
Flag Display Cases With Certificate Holder
This beautiful Cherry Flag and Certificate Case, Flag boxes will hold a 3' x 5' or 5'x 9.5' ( Burial flag) flag in the flag case and a 8 1/2" x 11" document in the document holder.
It has a glass front and black lining for an elegant touch.
The back board around the two interior cases is perfect for hanging medals and other memorabilia.
The Certificate Flag Cases, Flag boxes Can fit for a 3x5 flag
Or 5'x9.5' flag ( burial flag )

Dimensions: 26 1/8 x 20 3/4" x 1 9/1
If you order the flag case to fit the Burial flag ( the flag that was over a casket in a military funeral )
The Size of the case will be  26" x 30" x 3 "
Barcode: 659821320875