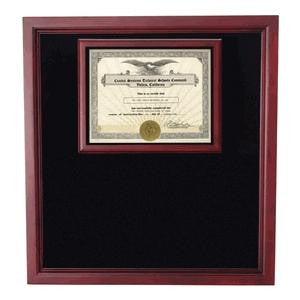 Extra Large Award Display Case
$175.99

$175.99

Save $225
---
---
Extra Large Award display case   
Award display case display Case
 Certificate Case
The Extra Large document display case is for that special person in your life who has recently returned home from the armed forces, be it finished tour of duty or home on leave, for any retired war veterans in your family, or to respectfully and lovingly pay tribute to the brave and fallen heroes of your family, this elegant cherry document display case makes the perfect gift for birthdays, holidays, Veterans Day or Memorial Day.
Made of durable cherry wood and protected with a glossy Plexiglas front and a plush, glare free black velvet lining for a background, the Flag and Document case will make an elegant gift, a proud decoration to adorn on any den or bedroom wall.
the Extra Large Award display case display Case comes with its own mountable hardware for wall mounting and installation.
The Document display case is an 8 ½" x 11" document in the document holder. What better way is there to show your loved one in uniform that you care? What better way to give them a sense of achievement? 
The Extra Large Award display case display Case  is the perfect way to put together a proud collection for anyone whose loved one is serving in the armed forces! Our Flag and Document Display Case allows you to beautifully tell the whole story of your loved one in the armed forces.  Frame dimensions measure at 24" x 25 3/4"
At Flag Connections, we support our country's service men and women serving overseas; marines, navy, army, air force and coast guard. We recognize that they deserve the best and strive in all our products to give them only the best quality designs and craftsmanship, American made. 
Show your loved one in uniform that they're nothing but the best with Flag Connections' Flag and Document Display Case! To complete any collection with the Flag and Document Display Case, Flag Connections makes and provides only top quality military flags and U.S. flags to fit the flag display case and crafted military brass medallions that are complemented flawlessly by the rich velvet background.
The document display case frame is also available in Oak or Cherry .
It has a glass front and black lining for an elegant touch.
The back board around the two interior cases is perfect for hanging medals and other memorabilia.
Barcode: 659821125586