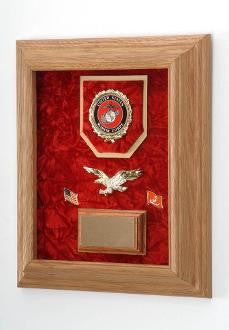 Deluxe Awards Display Case Tribute To Soldiers - Oak
Awards Display Case TRIBUTE TO A HERO
Deluxe Awards Display Case Tribute To Soldiers

 Our Military Shadow case, is the perfect gift for any Office, Military personal and veteran.
Our Award display case is hand made by American Veterans, and will proudly hold a military award.
- We believe that Our Heroes have to get the best Military frames, and we make no shortcuts on that .
We offer personalized plates that can come in the case.
- We ship all of our orders within one business day.
So if you are looking for a top quality award case, think no more !!!!
The Damnations are :
Inside Dimensions: 8W x 10H
Solid Oak or Walnut, Glass Front Emblem, Eagle, Flag Pin Laminate Panel Back w/ Hanger Crushed Velvet Background Personalized Laser Engraving Inside Dimensions: 8W x 10H
Barcode: 689533707770