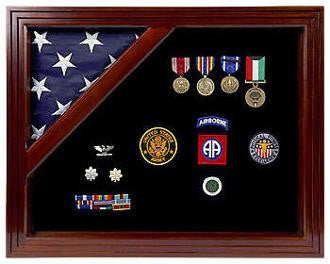 Colonial Classic Shadow Box & Flag Case - Cherry
$199.99

$199.99

Save $164
---
---
Colonial Classic Shadow Box & Flag Case
Great American Flag Case 
The Colonial Shadow Box features our finest solid mahogany, grown from ecologically-friendly, sustainable resources, then finished with a special lustrous lacquer that makes for a brilliant sheen.
The Colonial Shadow Box & Flag Case is created for you by hand with a devoted attention to the finest detail. This shadow box features a classic-yet-contemporary design that appeals to the eye and the heart. The Colonial Shadow Box is hand-crafted from the finest solid mahogany!
Hand crafted with solid mahogany for beauty and durability.
 
Ecologically-friendly, sustainable- source grade-A mahogany from strictly-regulated plantations where our mahogany is re-grown every year.
 
Our premium mahogany is hand-selected for grain and color, where is is then treated to 15 percent moisture content in our special, technically-advanced kilns. This ensures permanent, even coloration, shape and lasting healthy condition of the mahogany. Our fine mahogany has a finish of premium, nitrocellulose based, quick-drying clear lacquer.
 
Your choice of background colors! One for each branch of the military: Black for Army; Blue for Navy, Air Force and Coast Guard; and red for Marine Corps.
 
Solid mahogany throughout. No laminates, veneers, or particle boards.
 
Plenty of room to display your precious mementos and memorabilia! They're then protected by a special UV-resistant Plexiglas face!
 
Displays a standard 3x5 ft. flag. (Available separately in our flag section.) Please note that a 3X5 flag is not a burial flag, which is 5X9.5.
 
Easy medal placement.
The back of the display case is lined with felt for easy mounting of medals and memorabilia. You can use Velcro or double-sided adhesive foam discs commonly found in crafts stores. Be creative and display photographs and patches. You can choose from three official military colors for your felt background: blue, red and black. (Medals & flag shown in picture are not included and are shown for purposes of example.)
 
Crystal clear, shatter-proof Plexiglas panels that are 10 times stronger than glass yet 50 percent lighter.
 
Offers superior protection and conservation of your medals and flags. Plexiglas panels have ultraviolet protection that is 1.7 times more effective than glass.
 
Finished with a fine lacquer for protection of the mahogany and a lasting lustrous sheen.
 
Easy access through the rear of the shadow box for simple placement of your flag and medals.
 
Place it on a desk or shelf.
 
Dimensions: 23.5 in. wide, 18.5 in. high, 2.5 in. deep
 
Plenty of space for your engraved plate!
 
Free shipping!
 

100% happiness guarantee! 
Barcode: 659821068418