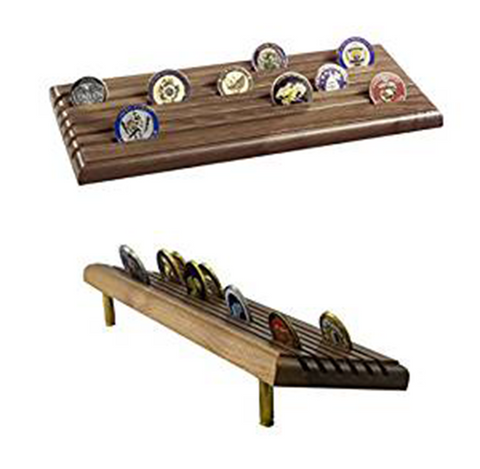 Coin Display Rack Made In USA Military 6 Row Tiered with Gun Shells, Holds up to 36 Coins - walnut
Challenge coins have quite a history, going all the way back to the days of the Romans when the Empire rewarded soldiers with coins in recognition of their achievements. In America, stories date the idea of challenge coins back to World War 1. Initially given to a flying squadron by its wealthy commander, the coins became a method of identification among the group members during the war and even after.
Each rack holds up to 36 coins and is designed to display at an angle so that all coins show at once. This unique design features the use of two spent military shell casings at the bottom rear of the rack, elevating the back row. In addition, the rack features an engraving plate (engraving additional).
Barcode: 722589496851