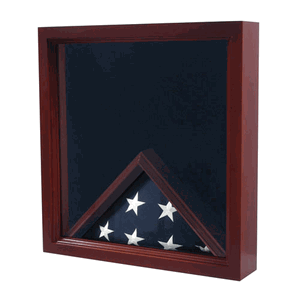 Casket Flag Case and Medal, Casket Medal Flag Display - 3' x 5' Flag
Casket flag Case and Medal, Casket Medal / flag Display
Flag Medal and award Flag Display Case
That case can fit for the burial / casket flag case and or the 3x5 flag ( choose the correct size of flag in ordering)

Shadow Box-Our Military flag and medal display case is made of finely crafted wood with an elegant cherry finish.
This case is ideal for displaying medals, memorabilia, certificates and a flag.
Our military shadow box is made in the U.S.A.
This flag display case holds a 3' x 5' or 5 x 9.5 flag ( Casket flag ) folded flag (flag is sold separately) see our Cotton American Flags.
The Medal display area is lined with rich black felt. The size of this case is 26' wide x 20' tall.
Or for the casket flag it will be 30' x 26'
The document holder dimensions are 8 1/2" (top of display case to the top of the shadow box) x 15 1/2" (From side to side of the box).
Made in USA
Orders are usually shipped out within one business day to places within the USA and Canada.
Please see below what a few of our clients used as a text for the engraved name plates!
All plates are laser engraved
And come with a gold lettering and a black background.
It is all done according to the military standard, with military fonts.
The name plates will come with a double side tape, for your convenience – so you can easily attached it to any flag case.
All name plates are shipped within the same day.
Barcode: 709260321473