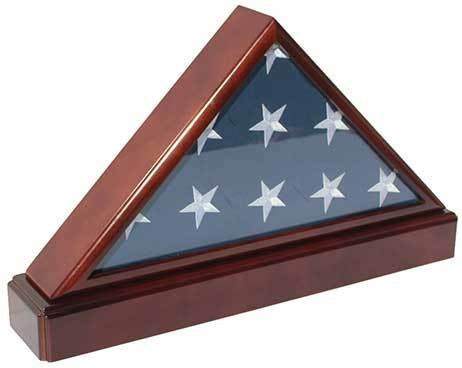 Burial/Funeral Flag Display Case Frame, Military Shadow Box with Pedestal Stand - Cherry
Burial/Funeral Flag Display Case Frame, Military Shadow Box with Pedestal Stand - Cherry
Beautifully crafted flag case to hold, display, and store a 5'X9.5' Folded U.S.A Burial/Funeral flag. Made from solid wood with real love for craftsmanship. The surface is very small. You will never get this kind of quality from stores. Comes in 2 Pieces: the triangle flag display case and the pedestal in one set. Whether you are give it as a gift or buying for as loved one this is a piece that you never have to apologize for.
Measurements: For the Triangle Flag case:
Exterior with 25"W X 12.5"H X 3.75" D
Interior:23"W X 11.5"H X 2.5"D Two Sides: 16"
Total Measurements with the Pedestal:
27.75"W X 15.75"H X 4"D (Outside) Weight (net): 7 lbs
 Orders for the Burial/Funeral Flag Display Case Frame, Military Shadow Box with Pedestal Stand - Cherry Flag are usually shipped out within one business day to places within the USA and Canada.
Barcode: 659821180295