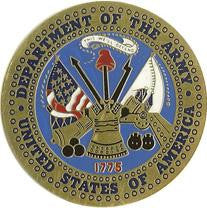 ARMY Color Medallion, Military Colored Medallions
ARMY Color Medallion Handsome 2" service medallion cast in brass and hand finished in brilliant enamel. Smooth back makes your medallion perfect for mounting, engraving or using as a paperweight. This medallion is a must have for any proud Veteran.
Great ARMY  Gift !!!
We ship our ARMY Medallion within 24houers
Barcode: 709260322852