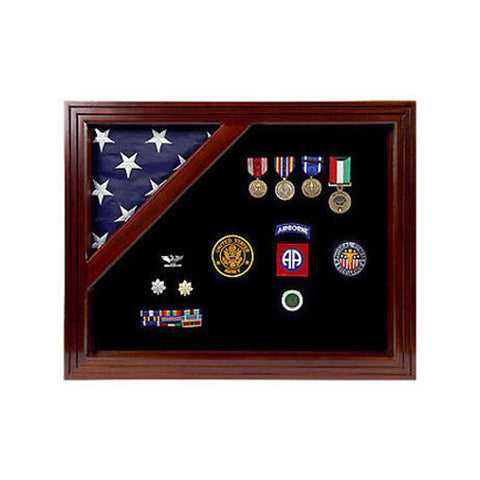 American Corner flag and medal display case - Fit for 3' x 5' Flag.
American Corner flag and medal display case, Fit 3 x 5 Flag

American Flag shadow box is designed to hold a 3' X 5' flag. The shadow box has an Glass front piece for a professional display. This shadow box is available in Cherry Pick your backer amongst official service fabric colors offered. Please see contact details for more information on pricing and quantities.

Hand crafted with solid Cherry for beauty and durability. Ecologically-friendly, sustainable- source grade-Cherry from strictly-regulated plantations where our Cherry  is re-grown every year.
 
Our fine Cherry  has a finish of premium, nitrocellulose based, quick-drying clear lacquer. 
 
Plenty of room to display your precious mementos and memorabilia! They're then protected by a special UV-resistant glass face! Displays a standard 3x5 ft. flag. Easy medal placement: The back of the display case is lined with felt for easy mounting of medals and memorabilia.

Offers superior protection and conservation of your medals and flags. Our Glass panels have ultraviolet protection that is 1.7 times more effective than traditional glass. Finished with a fine lacquer for protection of the Cherry  and a lasting lustrous sheen. Place it on a desk or shelf.
 
Dimensions: 23.5 in. wide, 18.5 in. high, 2.5 in. deep. Plenty of space for your engraved plate! It is Hand Made by veterans. American Made for American Heroes. Fast shipping with secure buy.
Barcode: 657477488796