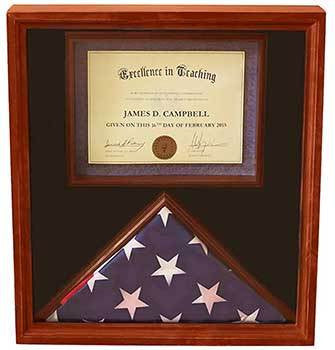 3x5 Flag Display Case with Certificate & Document Holder Big Frame
Product Description All-in-one Flag and Memorabilia display case holds the standard 3' x 5' flag with attached display case to proudly display all your treasured awards and memorabilia. The display case has a glass front. Easy access from the back. You can put it on a table or hang it on the wall. 1 strong hanger for hanging on the wall. Guarantee quality is as good as appear on picture if not better.
Shadow Box for to give welcome home hero! Retired Military, Promote, Police Officers, Flag Raising Ceremony, Flag Folding Ceremony
Flag Case and certificate holder for overseas mission in IRAQ, Afghanistan all honored missions Military, Police, DoD Civilians, Military Suppliers, American Flag Raising Ceremony.
American Flag holder Memorial, Honor, Retirement, Excellent Missions, Overseas Heroes.
Crafted from premium wood. Dimensions of Shadow Box 25" x 23" x 6" They All come with box and well packed.No assembly required. FLAG & CERTIFICATE NOT INCLUDE
Barcode: 659821110759