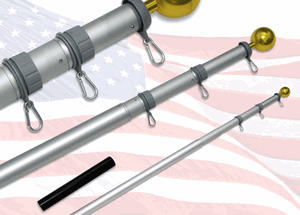 20ft Telescoping Flagpole With Sewn Nylon Valley Forge Flag.
20ft Telescoping Flagpole with Sewn Nylon Valley Forge Flag--This telescoping flag pole has a total length of 22ft, approx 2 ft must be cemented in the ground so the exposed height is up to 20ft. The pole expands from 5ft to 20ft in seconds with a spring release button. There is no rope to snarl or tangle. The clips are mounted on rotating rings so the flag can not get tangled around the pole. This telescoping flag pole is not designed to fly a flag at half mast. Made of rust-proof 2 1/4" diameter 16 gauge aluminum. 1 year Limited Warranty. This kit includes: # 3 inch diameter gold ball flagpole top # A 3ft x 5ft sewn nylon US flag made by Valley Forge with embroidered stars. # Plastic ground sleeve This product can be installed without expert assistance or a crane. The ground sleeve must be cemented into the ground to hold the pole vertically. Installation instructions are included. For more information on flagpole installation:click here PLEASE NOTE: These flagpoles do NOT come with a locking collar and stop bolt. This flagpole does not require these hardware pieces.

This is a residential grade product and is not designed to fly a flag in severe weather. Please also see our commercial grade sectional poles which are rated at 92 mph wind gust with 3ft x 5ft flag.
Barcode: 659821134922