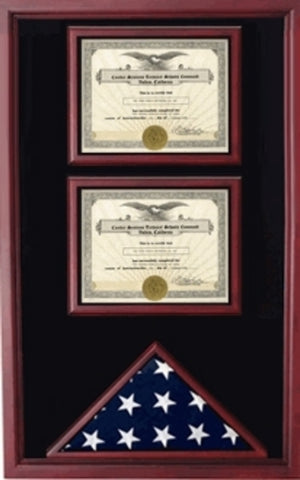 2 Documents Flag Display Cases.
2 Documents Flag Display Cases
American Flag and 2 Documents Cases Shadow box
Flag display cases with 2 Documents holder for 8 1/2 x 11 Documents
Our 2 Documents or 2 Award Display Flag Case  will be able to showcase your military Documents and awards along with an American Flag.  
Our case can be made out of Cherry or Oak wood, and will have a museum quality Plexiglass to protect your flag and Documents from any sun damage.
The Military 2 Documents and Flag display Case is an exact duplication for a case that we have created on behalf of several Generals in the United States armed forces.
Due to the high demand, we are releasing this case now to the public, with top of the line quality, that until now was reserved only for high ranking officials in the military. 
The 2 Documents / or Award Flag Display Case is made out of the best wood available in the American Market.
The flag case is made out of real natural wood not the cheaper made composite woods that are sometimes sold as imitation "knock offs." 
Best of all, the 2 Award Display Case is Hand Made in USA by USA Veterans.   
The detentions for the Flag and 2 Awards Document case are :
for the 3 x 5 flag it is 18 1/2 x 33 x 1 5/8
and for the 5 x 9 flag it is 25 3/4 x 38 x 2 3/4
It has a  Plexiglas front and black lining for an elegant touch.
The back board around the two interior cases is perfect for hanging medals and other memorabilia.
The Certificate Flag Cases, Flag boxes Can fit for a 3x5 flag
Or 5'x9.5' flag ( burial flag )
Barcode: 659821206285