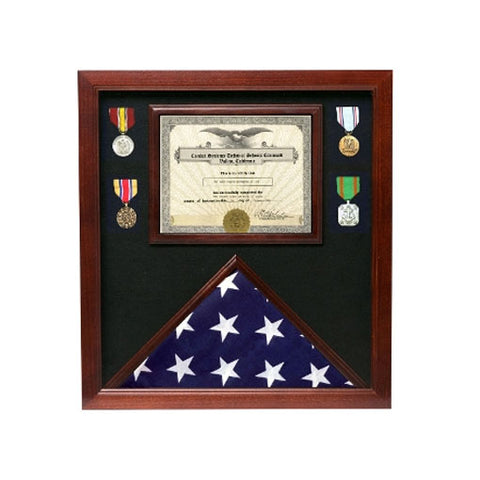 Veterans Made Flag Document Case American Flags - Cherry Wood.
Case will fit only for the 4x6 flag
Display your flag with this elegant flag and document case made from solid oak and 100% made in USA.

Along with your case you will also be able to securely display a 8.5 inch x 11 inch document in the document holder. It has a museum quality plexiglass viewing pane and the back board is covered in rich, luxurious Back felt.

There is plenty of room, in this case, to hang medals and other memorabilia.

Dimensions: 25 inches x 23 inches.

There are two sizes of national ensign frame boxes that can hold the 4'x6' flag.

The shadow box can fit both size banners with ease and the high-quality appearance of the triangle wood creates a very unique look that cannot be missed. You can mount the boxes on the wall or have them rest on the tabletop.

When displayed with a base, the American flag will appear more pronounced and the memorial stands are stained with the same shades as the frame for a uniform appearance. You will not need to unfold the memorial banners when they are displayed in the boxes as the display is already appropriate for this function.
We offer the engraving plates for additional cost.
The flag case do not include any flag – the item for sale is only the flag case !
Barcode: 685645771807