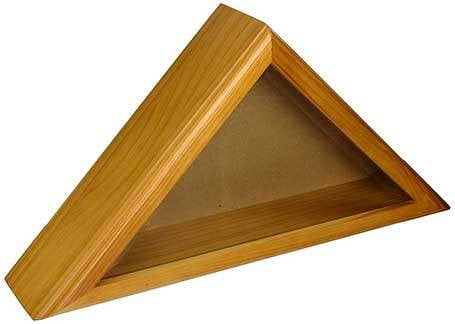 US Flag Store Cadet III Flag Display Case for 3ft x 5ft Flag in Oak
Introducing the Flag Display Case for 3x5 Flag, handcrafted in premium Oak wood. This meticulously crafted display case exudes timeless elegance and is perfect for showcasing your treasured American flag. Made with utmost care and attention to detail, this Oak hand-made flag display case ensures both protection and display-worthy aesthetics.

What sets this flag display case apart is its origin. It is lovingly handcrafted by veterans, adding a touch of honor and patriotism to its craftsmanship. Every detail is thoughtfully executed, making it a truly special piece to honor the symbol of our nation.

The Cadet III Flag Display Case is a testament to both quality and affordability. It is constructed with solid wood, providing a durable and sturdy enclosure for your 3x5 ft flag. With its exceptional craftsmanship and attention to detail, this case offers a remarkable value without compromising on quality.

As an exclusive product of the Military Gift Store you can trust in the authenticity and excellence of this flag display case. It has been designed specifically to hold a 3ftx5ft flag, ensuring a perfect fit that will complement the flag's size and proportions.

Not only does this flag display case possess exceptional craftsmanship, but it also offers convenience. With fast delivery, you can have this exquisite display case delivered right to your doorstep in no time. It is a hassle-free solution for those looking to proudly exhibit their American flag with style and grace.

Invest in the Cadet III Flag Display Case, made from the finest Oak wood and handcrafted by veterans. It's a symbol of pride and respect for our nation, designed to protect and display your 3x5 ft flag with elegance. Experience the exceptional quality and value this flag display case offers, and add a touch of honor to your cherished flag. Order now and enjoy fast delivery to proudly showcase your American spirit.
Barcode: 659821224463