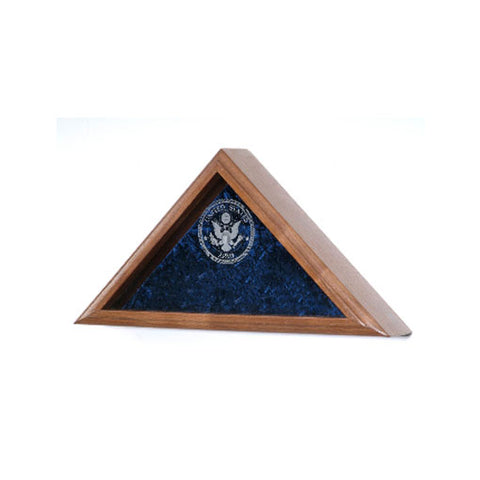 Glass Laser Engraved Flag Display Case - Fit 3' x 5' Flag.
Our flag display cases can also be offered as a casket flag case at the tomb of the deceased. Customers are free to make personalized requests for flag display cases, personalized flag frames, customized large flag case based on their individual needs.
FEATURES
Hand crafted by veterans who are specialists in the art.
Most orders are shipped out within one business day.
Our flag cases are renowned for premium quality.
Our display cases are manufactured with real American wood and not MDF.
Our Engraved Service Emblem Flag Cases are exquisitely crafted in your choice of solid oak, walnut, cherry, or mahogany.

The double-strength glass front of the flag case is Laser Engraved with your choice of Service Emblem; Air Force, Army, Coast Guard, marine Corps, or Navy.

The back panel of your flag display case is layered with crushed velvet, making this the preeminent flag display case available anywhere today.
Solid Oak, Walnut, Cherry, or Mahogany.
Personalized Laser Engraving (optional).
Flag (optional).
Double Strength Glass Panel.
Crushed Velvet Background (blue).
Laminate Panel Back.
Branch Specific Engraved Metal Plate (optional).
Inside Dimensions: 23 3/4"W x 11 3/4"H.
Accepts folded flags up to the 5ft x 9.5ft coffin/burial flag.
Barcode: 761596973450